Everyone can make meaning by writing. But more importantly, everyone can find deeper understanding through writing.
Stephanie is an internationally-celebrated facilitator who uses writing as a tool for problem solving and collaboration. In the business world, she has revolutionized the way groups realize and achieve shared objectives. In the academic world, she has transformed the way faculty view the writing process and meet their scholarly goals.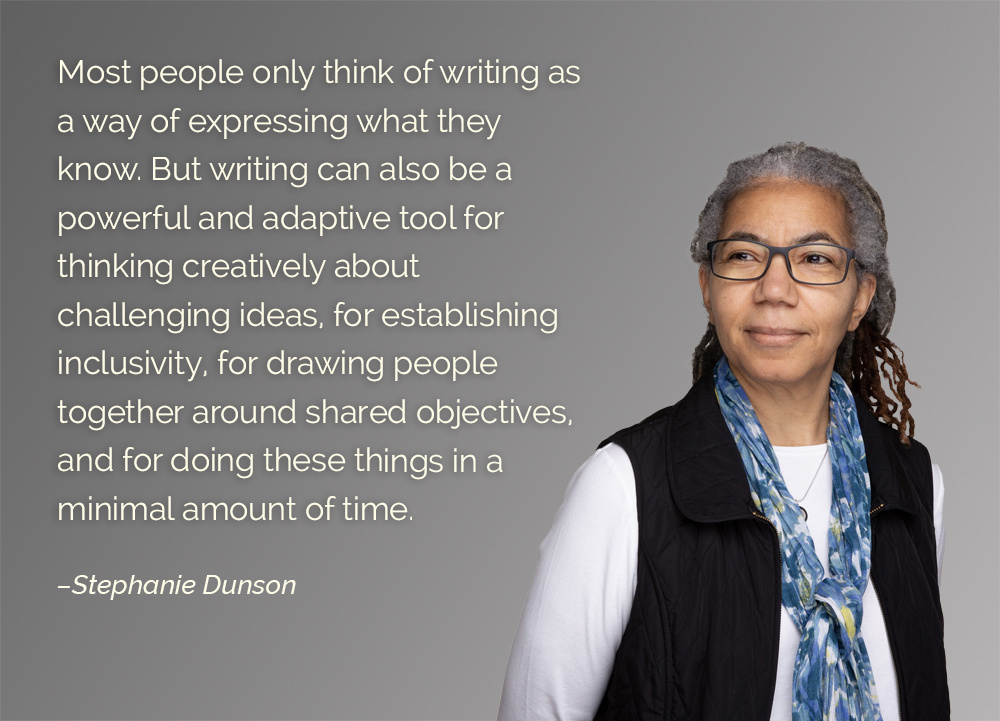 About
Stephanie Dunson, Phd
Stephanie Dunson is an award-winning scholar and a collaborative process specialist whose experience spans the academic and business worlds. Over her thirty-year career, she's gained an international reputation as a writing process expert, leading workshops at major universities, speaking at leading colleges, and coaching faculty from top programs. Her development as a team thinking expert is grounded in her work as a consultant for the Bard College Institute for Writing and Thinking and continued within academia through her tenure as Director of Writing Programs at Williams College. As a corporate facilitator, she leads writing workshops designed to help groups collaborate critically on complex problems, make meaningful use of diverse viewpoints, and build communities of inquiry, support, and respect. At Yale School of Management, Stephanie is a Broad Center lecturer and an Executive Education affiliate.